Turkey announced the program during a live televised event laced with special effects.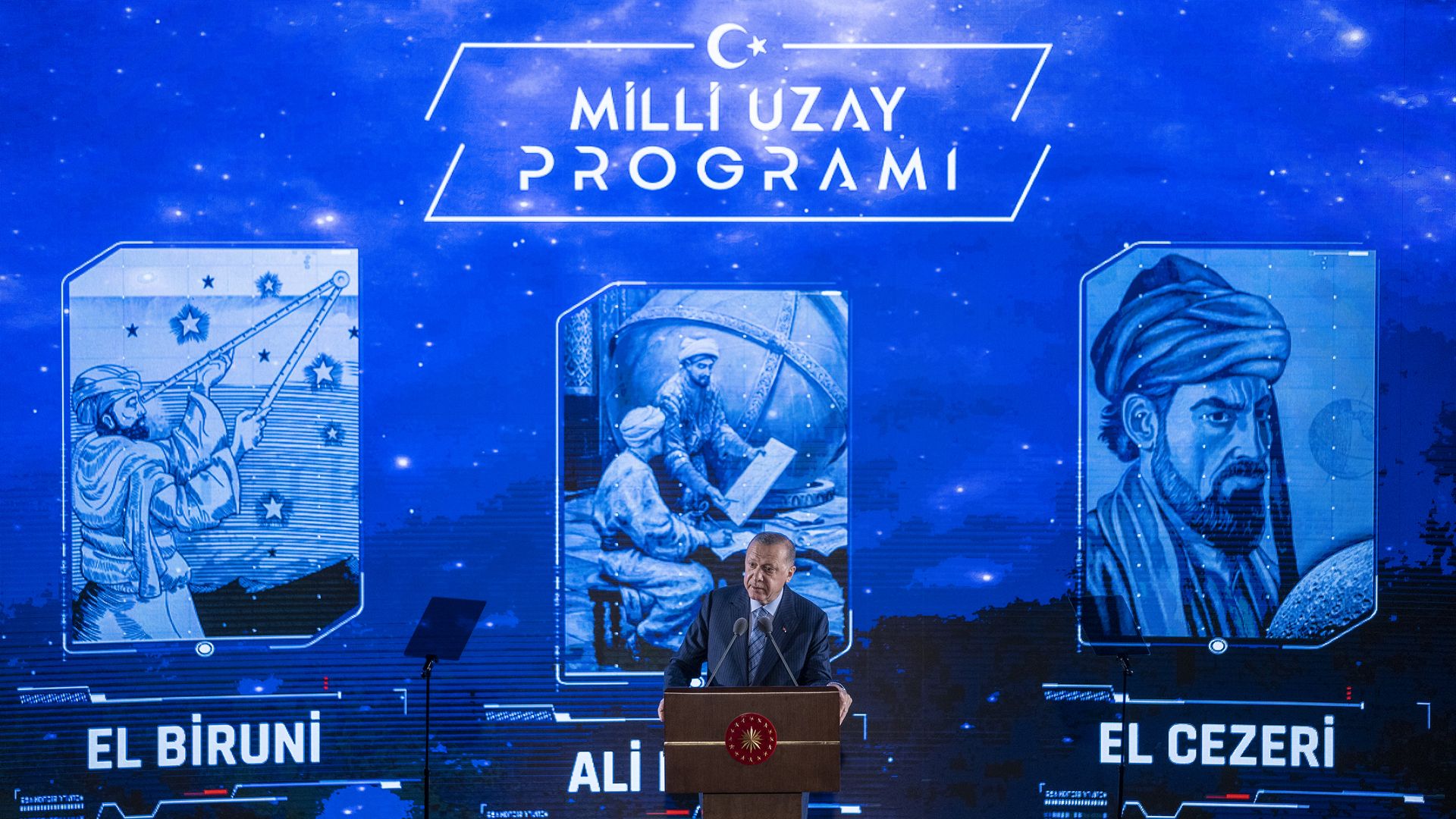 Some targets were also announced within the scope of the project. Accordingly, the first contact will be made to the Moon in 2023, the 100th anniversary of the Republic. For this, international cooperation will be made and a national and hybrid rocket landing on the Moon is planned.
"Our first goal is to land on the moon by 2023, the 100th anniversary of the Republic of Turkey, I believe Turkish engineers will manage to carry out this mission,"
Turkish President further stated that Turkey aims to build a spaceport with international cooperation.
The second goal is to move on to the second phase in 2028 to develop a new generation commercial satellite.
The third objective is to develop a regional positioning and timing system of Turkey.
The fourth goal was the establishment of a spaceport business.
The tenth and last goal that continues in this way has been announced as sending a Turkish citizen into space.
Turkey established the Turkish Space Agency, or TUA, in 2018, with the aim of joining the handful of other countries with space programs.
Moon Programme
Sending a Moon rover produced using indigenous technological capabilities to the Moon surface, and therefore,
• Gaining experience in launching technologies and deep space systems while accumulating heritage for already available indigenous space systems,
• Become one of the few nations that have reached the Moon and therefore upgrade the position of Turkey in the space area,
• Increase awareness about space in our country,
• Contribute to global science and technology through experiments performed on the rover platform.
Why it matters: Erdoğan said his country plans to send its citizens into space with international cooperation, build a spaceport with other countries and create a "global brand" of satellite technology, according to AP.
What he's saying: "The national space program will carry our country to an upper league in the global space race," Erdoğan said, according to Turkish state media. "The primary and most important mission of the program is to make the first contact with the Moon in our republic's centennial year [2023]."
Turkish President added that Turkey has spent 2.1 billion liras (around $300 million) on satellite, space, launching systems and space equipment in the last 18 years.
Of note: However, Erdoğan did not give specific details on how the county plans to achieve its ambitious goals.
The big picture: Russian state media reported Tuesday that Turkish Space Agency President Serdar Huseyin Yildirim said Turkey is in the process of a draft agreement with Russia over space cooperation.
"For sure, Russia is a very important space nation, we are well aware of that. We indeed want to cooperate," Yildirim said.
Turkish President spoke to Tesla and SpaceX boss Elon Musk last month on possible cooperation in space technologies with Turkish companies, according to Bloomberg.