Writer : Qin Xie
You might not be able to leave home, but it doesn't mean you can't explore the world
The FCO has this week advised British citizens to avoid non-essential international travel "indefinitely", which means that for the foreseeable future, holidays abroad are firmly off the table.
Before that announcement, travel restrictions around the world had already left many people's plans for the Easter holidays in tatters, with plenty of would-be holidaymakers still scrambling to get refunds.
But even though most of the country is forced to stay home due to the current advice to avoid non-essential travel in the UK, meaning no staycations either, there are still ways we can get creative and explore the world.
You can "visit" Venice without leaving home, for example, or test out some virtual travel experiences from your living room.
If you need some distractions during the Easter holidays, here are some ways you can recreate your holiday at home.
The Easter holidays has traditionally been the time for keen skiers to catch the last of the snow.
While the slopes are closed this season, there's no shortage of resorts live streaming their fresh powder to your living room, or action videos on Youtube, whether you're a beginner or someone pining for the black runs.
There's this narrated one, which takes you more than 1,000 metres down the slopes of St Anton in Austria. Or test your mettle on The Sarenne, the longest black run in Europe. You can even take the time to perfect your technique for next season, like this one on achieving the perfect turn.
Or if you want something a bit more immersive, Trentino VR has an app that you can use to turn your phone into a VR headset.
Whether you dress for the occasion is entirely up to you.
For the full apres experience, swing open those windows for a cool breeze while you wizz over to the Travel Oregon Youtube channel for a fireside sit down on Mount Hood. Make sure you have some fondue ready or, failing that, at least some red wine.
Rail journey
Enjoy slow travel? Why not take a train journey from home?
Serious train lovers can enjoy a ride along the Nordland Line towards the Norwegian Arctic Circle. Be prepare to hunker down for the long haul as the journey is almost 10 hours long.
For an immsersive journey, try the "grand train tour of Switzerland". There's a free app where you can read all about the highlights at each stage of the tour, including excursions you could take. And online, you can catch snippets of the journey and take in the highlights of Switzerland some 11 lakes along the way.
For a smaller journey, download the Palm Springs Aerial Tramway mobile app and you'll have access to over 50 audio and video tours of the tram ride. There are also two live tram cams and VR experiences you can enjoy
Wildlife escape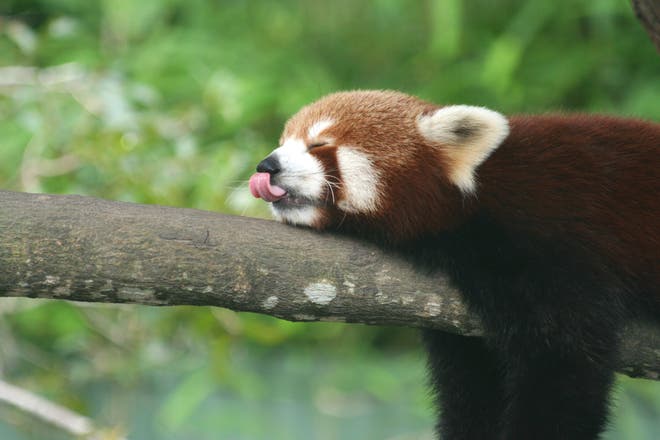 For animal lovers, there's an endless number of livestreams and many are coming from animal sanctuaries and zoos around the world
From Australia, cheeky koalas are streaming to you 24/7 from the Lone Pine Koala Sanctuary. There's a few angles to choose from, and seeing them in the dark (while it's day-time here) is quite a surreal experience.
Oklahoma City Zoo has a livestream of its red panda enclosure, where you can watch the lively creature scurry around its pad. It also has a Zoo at Two slot everyday that gives you a behind the scenes view of the animals they care for.
You can even go on an "expedition" to the Galapagos Islands with Google Earth without getting your feet wet.
Culture trip
If it's a spot of culture you're after, there's no shortage of options.
A number of operators have launched virtual tours around landmarks such as the Sistine Chapel and the Louvre. Google Art and Culture also offers a wealth of resources that you can enjoy from home. You can explore extensive collections of art works or take virtual tours of museums. It's always worth checking the websites of your favourite museums and galleries as well.
You can even try universities. Through Harvard's Giza Project, you can navitage the tunnels of the pyramids just outside of Cairo as part of an interactive tour.
Want to catch a play? London's National Theatre has a new show each week in April, available from 7pm on Thursdays on Youtube. Or for something a bit different, there's even Quarantine Cabaret from Chicago-based artist Michelle L'amour.
Or if the hands-on experience is more your thing, follow The Warhol Museum on Facebook where they have a regular series on making art at home.
Cruise getaway
The coronavirus pandemic has dealt a heavy blow for the cruising industry, with many vessels still trapped at sea by travel restrictions.
Cruise lines around the world have temporarily suspended their operations, leading to some fans recreating the experience at home.
There are actually a surprising number of ways you can experience cruising at home.
Crystal Cruises have launched their Cruise At Home experience, where "passengers" can enjoy a week of scheduled activities that range from cooking demonstrations to expert lectures, all of which can be streamed to your home.
Many cruise lines also offer virtual tours of their ships. Viva Cruises, for example, have launched a virtual tour of their new ship, Viva Tiara.